When we are having issues with our spouse or child, many of us seek the comfort and advice of a trusted friend, family member, or religious leader. It often feels good to have this kind of help, as it is free of cost and brings us closer to the people we trust. However, there are times when more specialized, long-term help, such as that from a Marriage and Family Therapist, is needed. Though seeking help from a therapist may be viewed as a new and daunting process, there are some noteworthy benefits.
One of the biggest advantages of psychotherapy is that it is based on scientifically supported ideas. The information and guidance provided by therapists is tested through research to ensure it can be used with people from various backgrounds. Rather than simply giving advice, therapists use specialized techniques to help couples and families see patterns in their interactions that are causing problems, and then teach healthier ways of communication and behavior. This approach provides long-term solutions that reconcile differences and help overcome many difficult situations.
Therapists remain objective in their work, thus ensuring that everyone who participates in a session is heard and understood, and not unnecessarily criticized. This is especially helpful if a person is feeling shame around discussing an issue and is worried about being judged by others for the same.
Therapists are legally obligated to maintain the confidentiality of their clients. With some exceptions related to mandatory reporting, everything that is revealed to a therapist is kept secret. Furthermore, no one has to even know that a person is seeking help from a therapist, thus saving him/her from all kinds of gossip and stigma.
In the past, when awareness was limited, seeing a therapist was considered an indicator of serious issues or illness. However, today, many couples and families go for therapy, simply because they want to learn better communication skills or get professional guidance before making a big life decision.
A therapist does not necessarily need to replace help from friends, family or the rest of the community. In fact, the skills learned in therapy can be even more effective within this kind of social support system. Just as visiting the doctor can provide long-term remedy for a physical ailment, marriage and family therapy teaches life skills to have better relationships, feel positively, and enhance overall quality of life.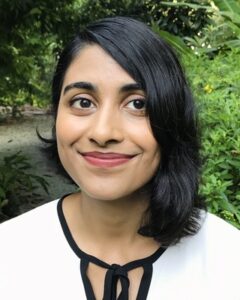 By Michelle Mathew, LMFTA, a Marriage and Family Therapist based in Seattle, Washington. She specializes in working with South Asian clients, primarily on relationship issues, anxiety disorders, and cultural identity.
Feature image by Loly Galina on Unsplash