In keeping with SAMHIN's mission of greater dialogue on mental health in South Asians and to highlight the important work of others in this area, we invited Bairavi Maheswaran, a medical student, to share tips for coping with the jitters of starting the new academic year.
Starting a new academic year is either an exciting experience or a nerve-wracking time. Typically, one might feel a little nervous about getting accustomed to learning from new teachers, meeting new people, and getting involved with more organizations.
Are you wondering how to organize yourself to help reduce school-related stress? Here are some tips that helped me reduce any anxious feelings I had and flow through the year better.
First, I got a planner, where I would fill enter all my exam dates and assignment due dates. I also put my start time for the day and created "time chunks". In other words, I would write, "For three hours, I will do XYZ assignment and from 8:00 PM to 10:00 PM, I will review these notes. This helped me figure out what I should expect throughout the day and let me adjust my schedule if something unexpected came up.
Second, I always started early and slow. If my lectures were given already, I would do one or two per day a week before classes began and reassure myself that I should take time to read everything. If I did not understand something, I would stop for ten minutes and read it again and try to find videos or questions to supplement my learning.
Third, I love to use colors and posts. Although, it might be such a small thing, writing in colored pens allowed me to differentiate the tasks and made things that were important pop out.
Finally, I made time for myself. Each day in my schedule, I would take at least an hour to read, go for a walk or take a Netflix break. I believe when you plan to make time for yourself, you see the importance of taking breaks. In other words, you will see how much you can take on and know that at a specific time, you need to stop working and just sit back.
Going back to school is always something new, however, just make sure you are confident, and if you need any help just ask. I hope my tips will help you organize your day better and I am sure you will do great this year!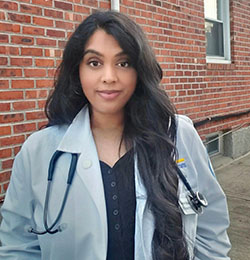 By Bairavi Maheswaran
SAMHIN Volunteer
Medical student at NYTICOM pursuing a DO/MS dual degree, in hopes of going into psychiatry or neurology as well as academic medicine
We would love to hear your comments on this post.
Received this on social media? Subscribe to SAMHIN Blog to be notified when the next SAMHIN blog is published.

Feature mage by jcomp on Freepik