In keeping with SAMHIN's mission of greater dialogue on mental health in the South Asian community and highlight the important work of others in this area, we invited Bairavi Maheswaran, a medical student, to share her ideas on coping with the challenges that medical students face in medical school.
Medical school is one of the most rewarding but most challenging experiences. As in all fields, there are both positives and negatives, yet how can one make the most of the positives with a heavy workload and constant worry about doing the right thing? First things first, stop and breathe. Reassure yourself that you are doing the best you can and that you are doing everything you are capable of.
Mental health is a topic that most medical students do not touch upon because they do not want to seem inferior to their peers or feel that they need extra help. Here are some tips I learned as a medical student that have helped me prioritize my mental health and increased my awareness of the prominence of mental health issues within the healthcare community.
Seek Help When Needed
Many medical schools have counseling centers that offer confidential services to talk with a licensed mental health professional.
Check Yourself
Mental health illness presents differently in everyone. Taking the time to observe and analyze your actions can help you recognize illness. Are you spending more time in bed? Are you being less productive? Are you eating differently than normal? Some of these factors can manifest into physical complaints such as frequent headaches and musculoskeletal pain. It is important to be aware of such unusual behaviors so we can be prepared to take care of ourselves.
Take a Break
Medical school can be overwhelming from time to time. It is like eating a lot of pancakes; it never stops. If you feel weighed down by the pressure, stop what you are doing and take a break. I listen to music. Some other ways to wind down after a long study session are spending time with friends or family and taking a short walk. Taking the time to rejuvenate yourself not only improves your mood but increases your productivity.
Talk with a Friend
You are not alone. Medical school is a journey with many people who may feel similarly to you. Sit down and talk with someone, and do not be afraid to reach out to them. There is always someone there to support you.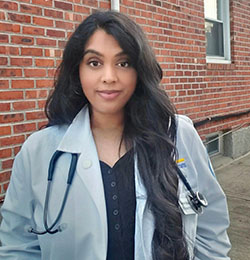 By Bairavi Maheswaran
SAMHIN Volunteer
Medical student at NYTICOM pursuing a DO/MS dual degree, in hopes of going into psychiatry or neurology as well as academic medicine
We would love to hear your comments on this post and what has worked for you.
Received this on social media? Subscribe to SAMHIN Blog to be notified when the next SAMHIN blog is published.

Feature image by SJ Objio on Unsplash