In keeping with SAMHIN's mission of greater dialogue on mental health in the South Asian community and highlight the important work of others in this area, we invited Palak Patel, doctoral student in clinical psychology, to share her thoughts on role of families in mental health.
According to an article published in an Indian psychiatric journal, South Asian culture is collectivistic in nature (Chadda & Deb, 2013). This means that the culture promotes social cohesion and dependence on others, such as one's family. A collectivistic culture seems to provide great resources for those who struggle with mental health issues, as it particularly emphasizes the importance of social support. Thus, South Asian families tend to be more involved in the caretaking of family members. They may be more devoted to the betterment of family members experiencing mental health issues and are extremely capable of participating therapeutically for the betterment of their struggling loved one (Chadda & Deb, 2013).
However, despite the protective interpersonal relationships that are prominent in collectivistic cultures, South Asians are still extremely susceptible to mental health struggles. In fact, one in five South Asians report experiencing symptoms of a mood or anxiety disorder in their lifetime. So, how can South Asians use their culture to their advantage, and help themselves and their loved ones with mental health struggles?
Reduce the stigma
South Asian culture suffers greatly from the stigmatization of mental health. It is often believed that disclosing mental illnesses will bring shame to the family, so many will not utilize health services for their concerns (Karasz et al., 2019). In fact, stigma is the underlying reason that many South Asians will not consult a professional for mental health support (Karasz et al., 2019). The power of a family within a collectivistic culture lies in its influence on the help-seeking behaviors of loved ones. Merely having a conversation regarding a family member's well-being can motivate and inspire them to seek the help they need.
Support your family members if they seek help
Kids and teens from South Asian backgrounds often meet resistance from their parents when they seek access to mental health resources (Singh, 2022). Although it might be difficult to understand because mental concerns cannot be physically seen, they can be detrimental if left unaddressed and unsupported. Openly listening without judgment can encourage your loved ones to talk to you about their silent troubles.
Try to educate yourself
Misconceptions about mental illnesses perpetuate stigma. For example, it might be common to think that if someone is experiencing depressive symptoms, it is their family's "fault." It might also be common to think that symptoms of mental illness can be "cured" by things like spending time with loved ones. Correcting these myths about mental health can educate you on the origins, symptoms, and warning signs of mental illnesses. Reading this blog post is a great first step!
It's important to note that there is a vast difference in perspectives on mental health between generations in the South Asian community. South Asian culture emphasizes respect for elders and often places decision-making responsibilities on the older generations. However, for older generations, mental health issues are more likely to represent weaknesses of character or "complaints" (Singh, 2022). This can lead those experiencing mental illness to feel unheard or dismissed. It is vital that our older generations take the steps to educate themselves on mental health, so they can perpetuate the development of a new, healthier, and more accepting view of mental health in South Asian culture for generations to come.
Resources
Chadda, R. K., & Deb, K. S. (2013). Indian family systems, collectivistic society and psychotherapy. Indian journal of psychiatry, 55(Suppl 2), S299.
Karasz, A., Gany, F., Escobar, J., Flores, C., Prasad, L., Inman, A., … & Diwan, S. (2019). Mental health and stress among South Asians. Journal of immigrant and minority health, 21(1), 7-14.
Singh, J. (2022). Mental health stigma in South Asian communities. Mind Matters, Illinois Psychiatric Society, 50.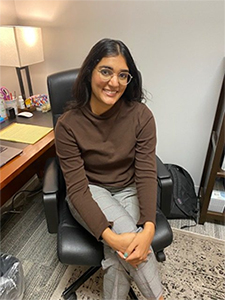 By Palak Patel, MA, SAMHIN volunteer
Palak is a third-year doctoral student in clinical psychology at the University of Indianapolis. She is passionate about making mental health care more accessible to the South Asian community and is writing her dissertation on the impact of gender roles on the mental well-being of South Asian American women. Palak hopes to continue advocating for South Asian mental health throughout her career!
Feature image by Tyler Nix on Unsplash






---

We would love to hear your comments on this blog post.

Subscribe to the SAMHIN Blog to be notified when the next SAMHIN blog is published.