In 2020, around 46.2% of the United States population received and sought mental health services. 8% was in the Asian population. Although there has been an increasing trend of individuals seeking support, there is still a reluctance to receive mental health services. Contributing factors range from the stigma of mental illness, lack of accessibility to resources, or even lack of time for appointments. Another factor that is not as prominent is the fear of ruining one's family reputation. Family reputation is held highly in South Asian communities; hence most of our actions are carefully articulated so that we do not bring "shame" to our families. Yet, this context of saving one's family image is also a hindrance to seeking psychiatric care.
Upholding one's family's reputation should not stop people, especially in South Asian communities, from speaking about any form of abuse they endure or mental illness they are experiencing. The focus on family reputation has caused many children to be disowned by their families and face strained relationships and has contributed to suicides and substance abuse.
Personally, I have seen this happen in my own family. One of my family members was sexually abused. She spoke to her parents about the abuse and named the abuser. Sadly, the family denied her from getting much-needed help fearing it might ruin the family's image in the community. With the lack of help from the family, this family member – a victim of sexual abuse – suffered daily reminders of what she had experienced. And she still had to interact with the abuser, pretending nothing had happened. Unfortunately, a year later, my family member took her own life. Stigma can have such tragic consequence.
Family is supposed to foster understanding and provide support. Family should be a source of unconditional support. That is what should define family reputation. The concerns of what others will think or say should not be the basis of family reputation.
We must learn to speak up about the importance of mental health and discuss the consequences of being prevented from seeking help. Furthermore, speaking up shows the communities that there are individuals who are supportive and non-judgmental. It is very crucial to demonstrate how a family can communicate with one another; by having time to speak about their emotions and learn to attack the problem, rather than the person.
One final thought to consider . . . We prioritize the image of being a perfect family, but is our family perfect if we deny help for those we love?
Resource
U.S. Department of Health and Human Services. (n.d.). Mental illness. National Institute of Mental Health. Retrieved March 1, 2022, from nimh.nih.gov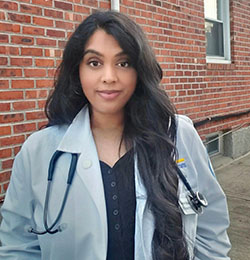 By Bairavi Maheswaran
SAMHIN Volunteer
Medical student at NYTICOM pursuing a DO/MS dual degree, in hopes of going into psychiatry or neurology as well as academic medicine
We would love to hear your comments on this post.
Received this on social media? Subscribe to SAMHIN Blog to be notified when the next SAMHIN blog is published.