Health Fair – Balaji Temple
July 10, 2022 @ 8:30 AM

-

12:00 PM

|

Free
Join us for this first health fair since pandemic began. SAMHIN will join IHCNJ and Sri Venkateshwara Temple (Balaji Mandir for mental health screenings.
SAMHIN team of mental health providers will provide free screenings for stress, anxiety, depression, substance abuse, ADHD, etc; to answer your questions and provide any advice and referrals when needed. Free educational handouts will be available.
Join us if . . .
If you smoke or chew tobacco and want to learn about how this is harmful and advice on quitting. Free testing will be provided.
You would like to speak confidentially to SAMHIN team of mental health providers.
You have any question about loved one's struggles with stress, depression, tension, or alcohol or drug abuse.
If you have any question or need advise about any mental illness and addiction.
If you would like free mental health screening.
If you have any questions about diagnosis and treatment.
If you have questions about where to go for treatment.
See flyer for details of all services that will be provided at the health fair.
Register by completing the registration form at www. ihcnj.org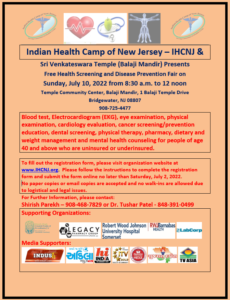 For Further Information, please contact:
Shirish Parekh 908-468-7829
IHCNJ – Dr. Tushar Patel – 848-391-0499
Visit visit www.IHCNJ.org
Share This Story, Choose Your Platform!